Welcome to Freco Herato S.L.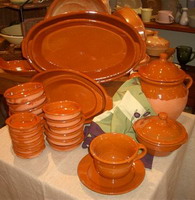 Freco Herato S.L. is a Spanish export agency, which represents about 40 Spanish ceramics factories around Spain.
We are working with wholesale companies and store chains around the world, connecting the authentic Spanish and Mediterranean ceramic products with our clients' concepts. From Spanish ceramics clay cooking till Tapas ceramics snack concepts.
Please have a look at our product catalog where you can find our standard items. Let this be an inspiration to create, together with us, a complete, custom made Spanish ceramics concept product line for your company !!
Enjoy your trip through our site and please contact us for any quotations or questions.
home | about freco herato | product catalog | contact us
Freco Herato S.L.
Avenida Pais Valencia 12 bajo
03570 Villajoyosa – Alicante
Spain
e-mail :

[email protected]
design and development by jeronimo design